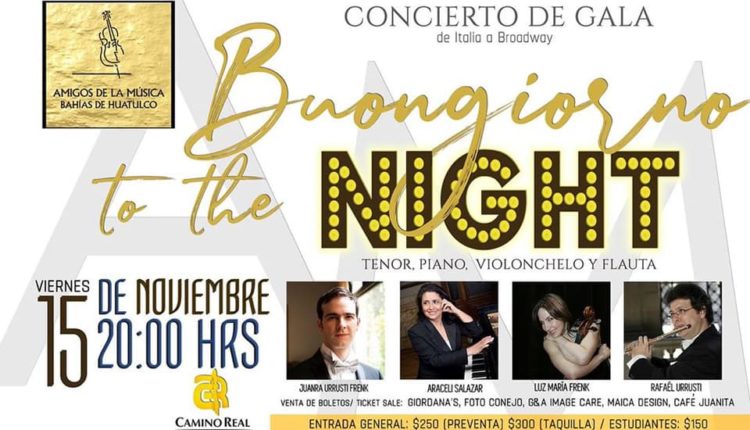 Concierto de Gala «Buongiorno to the night», Huatulco
Amigos de la Música Huatulco está feliz de invitarlos a su próximo concierto «Buongiorno to the night», un programa compuesto por piano, voz, flauta, y violonchelo, que interpretará hermosas canciones napolitana combinadas con interpretaciones musicales emblemáticas de la época del paquete de rata americana.
El evento se llevará a cabo el viernes 15 de noviembre a las 20:00, en las instalaciones del Hotel Camino Real Zaashila. Es muy recomendable llegar con tiempo ya que se encuentra a una distancia de 5 minutos a pie del estacionamiento hasta la zona del evento.
No te pierdas esta noche inolvidable, junto al océano, debajo de las estrellas y con las hermosas canciones interpretada por artistas altamente talentosos!
Únete a nosotros esta noche con (tenor), Luz María Frenk (violonchelo)Rafael Urrusti (flauta) y Araceli Salazar (piano).
Ticket sale: Maica Silver & Contemporary Bijoux, Cafe Juanita Huatulco, Giordana's – Delizie italiane, Estudio Foto Conejo, Rettro Restaurante Cantina Lounge , G&A Image Care
Para más información: 958 111 02 18